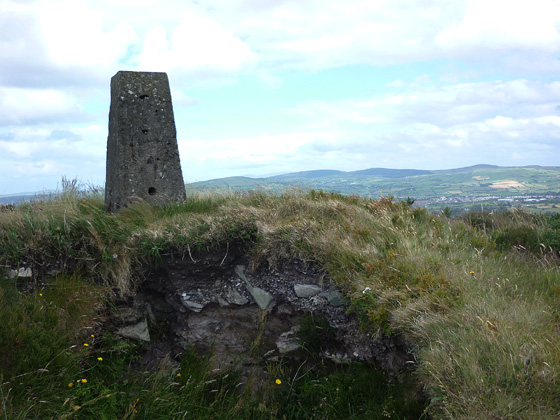 * Margaret is a member of the Lifford History Links Project Hub, and in this article offers wonderful ideas on how Croaghan Hill can provide a central location for visiting tourists in the future.
Croaghan Hill is the ancient burial ground of Ithe who was the uncle of Milesius, the first of the country's legendary invaders. He was killed in the battle against the Tuatha De Danaan and buried inside the Bronze age hill fort on top of Croaghan Hill. He was buried in the highest point
in this area so that even in death people would still have to raise their heads to look at him. His tomb is known as the Foyde.
Dr. Brian Lacey said in a lecture in the Donegal County Museum that Croaghan Hill is as important an archaeological site as Eamhain Macha in Armagh or Tara in County Meath. The pattern of churches and ring forts which always defined the edges of a kingdom spreads out in a circle from this area and we can form a hypothesis that the Cenel Chonaill originated here.
The stone structure on the top of the hill is called a Trigonometrical Point and is used for surveying.
The whole area surrounding Croaghan Hill is famous for its fishing, hill walking, music, dancing, friendly B&B's, home baking and open 'Donegal Gardens' where you can view the flora and fauna of Donegal.
Croaghan Hill overlooks the 'Land of Ithe' which overlooks other History Links Project hubs including Bready, Strabane, Douglas Bridge, Ardstraw, Castlederg and Newtownstewart in County Tyrone, as well as Castlefinn, Lifford, Raphoe and Manorcunningham in County Donegal.
These places with their rich cultural of farming, numerous historical sites, ancient churches, stone circles, standing stones, holy wells and mass rocks, a land of myths and legends all interwoven with six rivers; The Strule and Derg which unite to form the Mourne which in turn unites with the Finn, and the Deele, all which flow into the River Foyle. All surrounded by heather clad mountains, fertile valleys and turf bogs.
In terms of tourism in the future, from the top of Croaghan (which in the future could possibly be reached by monorail or lifts) or by walking the winding trail you could view the surrounding areas, perhaps with four telescopes pointing North, South, East and West. Visible from this point are the rivers the Mourne, Finn, Deele, Foyle and even Lough Swilly.

In a clear day you can see Barnesmore Gap and Grianan of Aileach. From here you could plan your itinerary with the help of the 'land of Ithe' exploratory leaflets and begin your journey into the past while enjoying the present.